31 August OS 2018 – Thursday of the Sixteenth Week of Matthew; the Deposition of the Cincture of the Most Holy Theotokos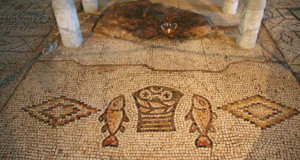 Because tomorrow is the Church New Year and the feast day Gospel replaces the daily Gospel reading, we read today, in addition to the assigned Gospel of the 16th Thursday of St. Matthew, tomorrow's daily Gospel reading, in which the Lord feeds the four thousand by a miracle, and then He departs quietly, as if nothing special had occurred:
In those days the multitude being very great, and having nothing to eat, Jesus called his disciples unto him, and saith unto them, I have compassion on the multitude, because they have now been with me three days, and have nothing to eat: And if I send them away fasting to their own houses, they will faint by the way: for divers of them came from far. And his disciples answered him, From whence can a man satisfy these men with bread here in the wilderness? And he asked them, How many loaves have ye? And they said, Seven. And he commanded the people to sit down on the ground: and he took the seven loaves, and gave thanks, and brake, and gave to his disciples to set before them; and they did set them before the people. And they had a few small fishes: and he blessed, and commanded to set them also before them. So they did eat, and were filled: and they took up of the broken meat that was left seven baskets. And they that had eaten were about four thousand: and he sent them away. And straightway he entered into a ship with his disciples, and came into the parts of Dalmanutha. – Mark 8:1-10
St. Theophan the Recluse points out how the Lord Jesus treated this as if it were a perfectly ordinary occurrence:
Having filled four thousand with seven loaves of bread, the lord "…straightway…entered into a ship, and came into the parts of Dalmanutha," as if nothing special had been done. Such is the true doing of good – to do it continually, not paying attention to what has been done and, always forgetting what is past, to stretch forward to what is ahead. This comes naturally for those who are filled with goodness. Just as a strong man lifts heavy weights without noticing, while a weak man who has lifted a small weight cannot seem to forget it, so one who is strong in goodness does every good without strain, whenever the occasion arises, while one who is weak in goodness cannot manage without straining. The good is memorable to him, and he keeps glancing at it and looking back. A good heart craves to do good, and is not satisfied until he has eaten his fill.   While hunger is felt, dinner is remembered, but when the hunger has been satisfied, all is forgotten. So it is with a truly good person: a good deed is remembered before it is completed, but once it is done, it is forgotten.   – from Thoughts for Each Day of the Year, pp. 199-200
We are Christians, and we know that we are supposed to love our brother and to do good to him. Even when we do good, however, the demons work through our passions to rob us of the grace that we should receive when we perform acts of love.
For example: We do good to someone – give him some money, let him use our automobile or stay in our house, give him a job when he is out of work, take food over when the family is needy, etc.   Do we do it for Christ's sake, because we see Christ in our brother, hoping to avoid the pains of hell and inherit Paradise, or, what is even higher, out of love for Christ, to please Him alone, because He is worthy of all love? Or do we write a red mark in the debit column of a calculating heart: "Ah, now so-and-so owes me something"? How many family and social relations which men regard as normal are actually fundamentally corrupt, because they are based on such a calculus! God designed family and friendship to lead us to heaven, but when they function as a marketplace of endless haggling over who owes what to whom, they drag us down to hell instead.
Of course, we on our part should always render due gratitude to our benefactors: of this there is no question. Ingratitude, whether to God or to man, is base and ignoble, a quintessentially Luciferian attitude. We must always show gratitude, and we must teach this essential virtue to those for whom we are responsible. When it is we, however, who are the benefactors, our only thought should be of pleasing Christ, Whom we see in our brother, and we should seek both praise and payment from Him alone.
Let us pray to escape the calculating heart of fallen nature by the grace of that good hunger of which St. Theophan writes above: the insatiable hunger of a loving soul to do good, to do good without measure and without calculation, striving forward towards the finish line of death and God's judgment in the continual doing of good, thinking only of the reward and the Rewarder, Who shall render to each man according to his deeds.