24 November OS 2020 – Monday of the 10th Week of St. Luke, Afterfeast of the Entry of the Theotokos, Holy Hieromartyrs Clement of Rome and Peter of Alexandria (Holy Great Martyr Catherine, according to the ancient Typicon and the current Slavonic Menaion)
Listen to an audio recording of this post at https://www.spreaker.com/user/youngfaithradio/lk10mon
Today's daily Gospel reading is Luke 17: 20-25.
At that time when Jesus was demanded of the Pharisees, when the kingdom of God should come, he answered them and said, The kingdom of God cometh not with observation: Neither shall they say, Lo here! or, lo there! for, behold, the kingdom of God is within you. And he said unto the disciples, The days will come, when ye shall desire to see one of the days of the Son of man, and ye shall not see it. And they shall say to you, See here; or, see there: go not after them, nor follow them. For as the lightning, that lighteneth out of the one part under heaven, shineth unto the other part under heaven; so shall also the Son of man be in his day. But first must he suffer many things, and be rejected of this generation.
St. Theophan the Recluse uses the example of the Lord's own suffering to illuminate the path of suffering of His true followers:
Having said that the Son of Man will appear on His day like lightning, instantly illuminating everything under heaven, the Lord added: "But first He must suffer many things, and be rejected of this generation…" He suffered in His person at one specific time [i.e., at His Passion and Crucifixion], after which sufferings continue in the person of believers. There is suffering as they are born, as they are brought up in the spirit, and as they ward off the actions of the enemy, both inward and outward…The sorrows, temptations, and wavering of faith due to unbelief are continual arrows. Words and writings that exude unbelief are the flaming arrows of the evil one. These days, the evil one has led many blacksmiths to forge such arrows. The hearts of believers ache when they are struck by them and see others struck…But the day of the Lord's glory will appear – then all the secret darkness will be revealed, and those who have suffered will rejoice with the Lord. Until that time we must endure and pray. – from Thoughts for Each Day of the Year, pp. 260-261
We live in hope, awaiting the return of the Lord, the revelation of the secret thoughts of the hearts, and the Great Judgment. Until then, we suffer outwardly and inwardly, especially because we are so few, because those outside the true Faith are so many, and because the propaganda of the Father of Lies grows stronger every day, not only, as in St. Theophan's day, emanating from those obviously against the Church – atheists, communists, masons, et al. – but in our day, and more grievously, also from those possessing seeming authority in the Church – patriarchs, synods, theology professors, spiritual writers, and so forth – who have made themselves instruments of the currently coalescing global governance long prepared by the atheists, communists, and masons. The enemy is within the gates and pretending to be our friend.
When we hear deceptive and seductive arguments against our pure confession of Faith, especially very clever ones with a "holy" covering, our hearts may waver – "Maybe I am wrong, maybe it is alright to compromise in order to get along…these seem like nice people…they print nice books…they have a lot of resources to do good…" and so forth. But deeper within our hearts, we know that these thoughts are exactly what we have always known them to be: lies from the Evil One.
And we may still suffer, as well, from wavering in the face of the overtly anti-Christian propaganda: propaganda for evolution, for homosexuality, for the equality of all beliefs, for "tolerance" of every kind of sin and disorder, for…you name it.
The Lord allows all of this, so that we may go more deeply into prayer and into studying our Holy Faith, in order to be strengthened more and more as the attacks increase more and more. We will either grow stronger or we will fall, but there is no standing still, no option to remain just as we were. We are on a pilgrimage, and we have to keep putting one foot in front of the other. We must feed on courage and hope from the Lord, obtained as His free gift after fervent prayer. We alternate between moments of darkness, when all seems lost, and brilliant flashes of light, when the gracious Lord, seeing our steadfastness in the midst of darkness while knowing our utter weakness and absolute dependence on grace, gives us the consolation of absolute assurance of His Truth, of the forgiveness of our sins, and of His loving presence in our hearts, whose sweetness is so great that we will endure anything rather than to lose it. He becomes everything to us.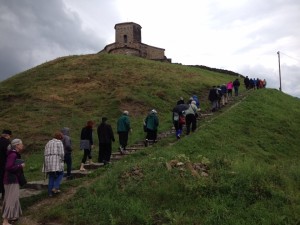 During the Nativity Fast, there is a peculiar kind of warfare deriving from our desire for the legitimate human consolations of the Christmas and New Year celebrations – the company of family and friends, the warmth of happy social gatherings, decorations and presents, and so forth. In their proper place, all of these are indeed good things, and, now, in 2020, with normal social ties and social gatherings being threatened on all sides, the memory of past holiday seasons endues them an aura of even greater remembered wholesomeness and desirability. Yet in recent generations, they became so mixed up with improper, worldly, and foolish things, that much that had been good about them became poisoned or at most empty, and to a Christian with sensitive Orthodox perceptions, this is extremely painful, not because we do not love our family, friends, and co-workers, but because we do. Loving them, we desire their true good, and the nature of their true good is exactly what it seems most often impossible for us to convey or for them to understand.
In the face of all this, we must have recourse ever more deeply and persistently to our refuge, which is prayer. We must go into the closet of the heart and there break ourselves before God, pouring out our sorrows, our faith and lack of faith, our desire for the salvation of our loved ones, and our grief over the sins of all this perishing world. We must surrender ourselves to Him and live only for Him. We must realize what it means to become not only servants but also friends of God. This process causes both great pain and great joy. It is a flaming crucible that burns throughout one's life, unto the last trial of death, until every impurity, every alloy of sin, worldliness, doubt, and unbelief is burned away. This must be so, for to ascend unscathed between the awaiting ranks of demons at the hour of death, the soul must have already known by experience the meaning of the Lord's words, "…for behold, the kingdom of God is within you."
O dear Savior, Who became a man and suffered for us, enable us also in our little way to suffer for Thee, that we might live and reign forever with Thee! To Thee be the glory, with the Father and the Holy Spirit, unto the ages of ages. Amen.
(Except for the brief reference to the situation in 2020, these words were written on this date in December 2015).
+++++++++++++++++++++++++++++++++++++++++++++++++++++++++++++
When the soul of a man departs from the body, a certain great mystery is there enacted. If a person is under the guilt of sin, bands of demons and fallen angels approach along with the powers of darkness which capture that soul and drag it as a captive to their place. No one should be surprised by this fact. For if, while a man lived in this life, he was subject to them and was their obedient slave, how much more, when he leaves this world, is he captured and controlled by them? You can understand this, however, from what happens to those on the better side. Indeed, angels even now stand alongside God's holy servants, and holy spirits surround and protect them. And when they leave their bodies, the bands of angels receive their souls and carry them to their side into pure eternity. And so they lead them to the Lord. – Homily 22 of St. Macarius the Great, "On the two possible states of those who depart from this life."