23 March OS 2016 – Fourth Tuesday of Great Lent, Holy Monk-Martyr Nikon and His 199 Disciples in Sicily
One of the great theological themes of the Triodion and Pentecostarion is the Mystery of Holy Baptism, which, in the early years of the Church, was performed pre-eminently on Great and Holy Saturday.   Great Lent was devoted to the daily instruction of the φωτιζόμενοι ("those about to be illumined," called in the Latin-speaking part of the Church the electi – "the chosen" – or competentes –  those "competent" to live as Christians), that group of catechumens who had been approved for Baptism. The Pentecost (the 50 days from Pascha to Pentecost) was devoted to post-baptismal instruction, called "mystagogy," for the newly-baptized.  There is a wonderful "travelogue" of a nun from Spain named Egeria (or Aetheria), which, along with many other fascinating and edifying things, describes this process as she witnessed it taking place in the Church of Jerusalem in the last decade of the fourth century.  (For those interested, you can read an English translation of this text at http://www.ccel.org/m/mcclure/etheria/etheria.htm.)
Following in this tradition, St. Theophan the Recluse devotes his thoughts for today to the meaning of our Baptism:
Baptism according to Apostle Peter is "the answer of a good conscience toward God (I Peter 3:21)."   He who has been baptized gives a vow to live the rest of his time according to a pure conscience, according to the whole breadth of the Lord's commandments, accepted in his conscience. Moral purity is a characteristic of one who is baptized. The Apostle Paul compares the brightness of this life with the brightness of the resurrected Lord. "That like as Christ was raised up from the dead by the glory of the Father, even so we also should walk in newness of life (Romans 6:4)." In Baptism, the old sin-loving man dies and a new man arises, zealous to do good works. "Likewise reckon ye yourselves [ye who are baptized] to be dead indeed unto sin but alive unto God through Jesus Christ our Lord. Let not sin therefore reign in your mortal body, that ye should obey it in the lusts thereof. Neither yield ye your members as instruments of unrighteousness unto sin: but yield yourselves unto God, as those that are alive from the dead, and your members as instruments of righteousness unto God. For sin shall not have dominion over you (Romans 6:11-14)."  – Thoughts for Each Day of the Year, p. 70
When we were baptized, we – or our sponsors for us – made a vow to God, to renounce Satan and to unite ourselves unto Christ.   When we are tempted to sin, one basic thought we should have is, "I must not sin, because I have made a promise to God not to sin."   By constantly making this choice, we strengthen our will to turn from evil and do good, and by the grace of God we become stronger and stronger in our fight against sin.  The baptismal grace, which is uncreated, truly divine, and infinitely strong, unites with our nature to make us invincible conquerors of sin.
The "culture" of victimhood and self-pity so prevalent today militates against this basic thought, which even our noble pagan ancestors understood, that we have the ability to strengthen our will to fight evil and to do good.   Everyone wants to be a whiny-baby who is "entitled" to give in to his weaknesses and passions and not be "judged" by others.   And this narcissistic, infantile approach to social relationships is called "love"!   "Let's all just be self-indulgent together!"  In other words, "love" is a pact of mutually accepted (not to say enforced) moral suicide.  Obviously all this, if continued, can have only one outcome, which is the utter destruction of the family and of the civil society of free, moral, and thinking human beings.
The Church, however, is by no means doomed to follow this path.   She is the Ark of Salvation, in which we can find spiritual safety for our families and ourselves. And She is the leaven in the mass of humanity, which by the grace of God can leaven the whole, turning things around very radically, because it is the grace of God at work here and not blind, impersonal forces of historical evolution.   We cannot control vast historical movements. We can, however, control ourselves, and God will do the rest.
Let us, then, use the second half of Great Lent to embrace our Baptismal grace and Baptismal vows joyfully.   We belong to the Lord! This thought alone should give us courage to fight the good fight. Our hope is invincible, because we have placed our hope in the invincible Conqueror of death, Our Lord Jesus Christ.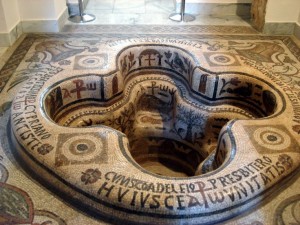 An ancient baptismal font from West Roman North Africa.